Last year, we visited a Mum of 4 called Grace. Sadly her husband had died. Grace's house, seen below, was and still is in a poor state but is not uncommon:
When we met Grace last year she was pretty down trodden and you could see she had lost the will to carry on but she gratefully received the chickens with the clear understanding that they were her chance to create a micro business with the objective of feeding herself and children BUT sell surplus eggs and chicks for the purpose of educating her children.
On this visit to Malawi, we made a point of visiting Grace and what a difference this has made!
She ran to our car with a sparkle in her eye and greeted all 5 of us personally welcoming us to her home.
Her eldest son was there to also greet us and thank us as Grace had sold 3 chickens before this term which raised 2000 Kwacha (£3.00) which paid for a whole term at school, see it does work!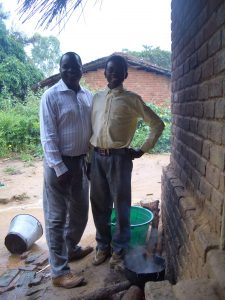 Grace had also raised 15 chicks and her original 3 chickens, were sitting on 18 eggs which now means she will be donating 2 chickens back to us for another family to do the same.
Grace still lives in dreadful conditions with no water or toilet facilities BUT at the rate of her business growth, who knows? That's now up to her as she's diversified into growing tomatoes as well, I have to say this was a highlight of my trip as it's been a tough project taking time to start making a difference.
David Cole